Nail art is a huge trend right now, and it's not going anywhere. So if you're looking for some new nail art ideas, we've got them here! We have everything from simple designs to intricate patterns that will make your nails pop. So what do you think of these silver nail designs?
Silver nail art is a great way to jazz up any look. The following article has some of the best silver nail polish ideas that you can wear for any occasion. In addition, this blog post will teach you how to get the perfect manicure and what colors and textures work best with your skin tone.
Silver glitter nail designs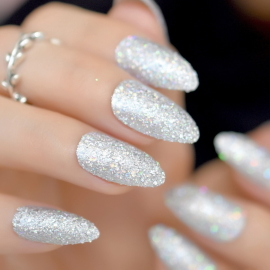 Nail art is a fun way to express your creativity and also show off your fashion sense. There are many different styles that you can choose from, from simple stripes to elaborate designs with gems or flowers. You can even create the illusion of wearing nail polish when you don't! Nail art doesn't have to take a lot of time either- some people do it as an at-home manicure while others may go for something more intense like acrylics which require going to a salon. If you're looking for new ideas on how to jazz up your nails this spring season, read on.
Do you love everything glitter? Do you want to have a way to sparkle all year round, even when it's cold outside? There are so many ways to incorporate this fun and festive trend into your everyday life. From clothing choices to nail polish colors, there is a lot of room for creativity.
Nail art is not just for teenagers anymore – it's a fashion statement that women of all ages embrace. Silver glitter nail designs are the perfect way to spice up your manicure and add some sparkle to your day. Today we're going to show you how simple it is to do this design yourself.
Ways to wear silver nail polish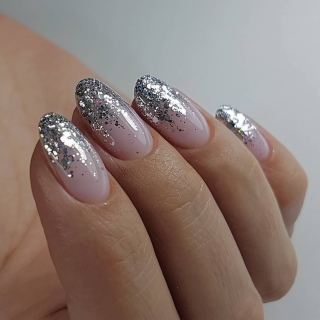 Silver is the perfect color for any woman who wants to add a touch of class to their look. Silver nail polish can be worn in many ways, from subtle, classic french manicures to more daring metallic shades.  Here are some examples of how you can wear silver nail polish:
Wear it with just one accent finger- It's simple and chic and will go well with any outfit or occasion.
Add an accent dot on each nail- This adds just enough detail without being too much.
Pick a contrasting color for your nails, so they pop out even more- Try pairing silver with dark colors like black or navy blue for a quirky twist!
Make glitter your best friend- Sparkles never hurt anyone.
Every girl needs a good silver nail polish in their collection. Silver is a versatile color that can be worn as an accent or the primary color for your mani/pedi. There are so many ways to wear silver, and we've found some of our favorite looks.